Please Login to Send Message.
Quotes / Urdu Quotes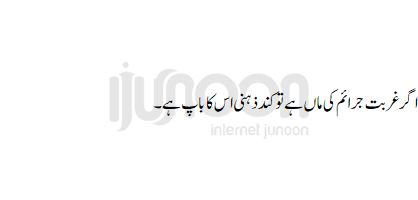 Category:
urdu-quotes
Jokes / Miscellaneous
aak dafa aak admi hotel per khana khany gayia.use nan vator say kaha kah kyia paka houa hay to vator nan jub sari tufsil batye to thoree dar bahd woh bhool gayia kah vator nan usay kyia batayia tha.
asee tarah woh vator ko 4/5 bar bulata raha ore poochta raha kah (kyia paka hay) to vator nan tang aa kar kaha-
kah ""lun"" paka hay.
to admi nan order dayia ""2 plate topie topie lay auo""
·

1 Like ·

Dec 05, 2018 at 00:12
Category:
miscellaneous
Jokes / Miscellaneous
Ik admi jo ke building ke theesre floor per rehtha hai,sobah kam per jane kelie gar se nikaltha hai tho niche akar ose yad atha hai ke vo apni ainek(Glases) our roomal upar bool gaia hai,vo apni bivi ko avaz detha hai ke mera saman niche peenk doo me bool gia hoo.os ki bivi pehle ainek penkthi hai tho vo toot jathi hai,ye dek ker vo apni bivi ko kehtha hai ke chaloo choro roomal lene me khud upar ajatha hoo.
·

1 Like ·

Nov 05, 2018 at 06:11
Category:
miscellaneous
Jokes / Miscellaneous
aik dafa aik bachi ko us ki maa doctor k paas lay kar jaati hay . who doctor ko batati hay k is ki aankahin bahir aa rahi hain jabra khul raha hay mun patla ho gaya hay .is ka kiya ilaaj ay .Doctor kahta hai bachi ki pony dheeli kar dain sub theek ho jaay ga
funny na ha ha ha .just joke
·

1 Like ·

Oct 04, 2018 at 13:10
Category:
miscellaneous
Quotes / Urdu Quotes
·

3 Like ·

Sep 01, 2018 at 06:09
Category:
urdu-quotes
Poetry / Poetry Sms
koi maslehat zaror hy warna khuda gawah...
Pyasa jo lar raha hy dariyaa usi ka hai...!

·

0 Like ·

Aug 13, 2018 at 21:08
Category:
poetry-sms
Jokes / Miscellaneous
ek dafa do admi hathi ka shikar kerney Asam gay. janey key liey oonhon ney jahaz charter kerwa lia. oonhon ney do haathion ka shikar ker lia or Piolet sey kaha, ""Humney yeh do haathi marey hein plz zara jahaz mein rakhwa do humney inko saath leker jana hey""
Piolet ghussey mein bola, ""tum logo ka dimagh kharab ho gia hey, yeh chota sa jahaz in ka bojh bardasht nahi ker sakey ga is liey inko chor do""
dono Admi boley, ""bhai Pichli dafa bhee hum isi jungle mein shikar kerney aey thay or pichli dafa bhe humney do hee hathi marey thay or pichli dafa bhe piolet ney mana kia tha magar humney haathi jahaz mein rakhwa liey thay..."" wo kafi der behes kertey rahey akhir tang aa ker piolet ney kaha,""acha chalo""
kisi tarha teeno ney dono haathi jahaz mein rakh diey or wapsi kee rah lee. rastey mein hee jahaz kharab ho gia or dolney laga piolet ney foran parashoot pehna or neechey jump ker gia. wo dono to haathion sey chipakey huey thay. oonhon ney perwan bhee na kee or jahaz samet ek jaga aa parey.
dono girey to ek ney keecher mein sey moon nikal ker kaha, ""wesey pichli dafa bhee hum yahin girey thay""
(plz mail me if u liked it)
·

1 Like ·

Jul 27, 2018 at 20:07
Category:
miscellaneous
Poetry / Love
gham ki taweel qaid se mujh ko rehai de
kuch din agar woh chaand sa chehra dikhai de

taweez aisa de koi apnay mureed ko
murshid woh mere hath mein apni kalai de
·

2 Like ·

Mar 21, 2018 at 15:03
Category:
love
Jokes / Miscellaneous
Molvi Mehmaan Sy:
Ap K Liy KADDU SHARIF Pkwaon?
.
Mehmaan:
Gunahgar Insaan Hoon KADU
SHARIF K Qabil Nahi
.
.
.
.
Aisa Karain Aik Beghairat sa
MURGHA Paka lain..
·

5 Like ·

Mar 12, 2018 at 05:03
Category:
miscellaneous
Nadeem Moti
Gender : Male
Country : Pakistan
Followers : 0
Total Updates : 51
Member Since : Mar 17, 2014
Coming Soon!
Coming Soon!